Kaleigh Cronin
"I couldn't be more grateful for the Frederick Smyth Trust Fund Scholarship Program. Growing up in Manchester and having had the incredible opportunity to perform on the Palace Theatre Stage from a very young age, I always knew that I wanted to pursue a career in music. After researching the most elite programs in the country, Carnegie Mellon University became my dream school where I hoped to hone my craft as a musical theater performer. Unfortunately, it came with an extremely hefty price tag.
It was only with the help of The Frederick Smyth Trust Fund that this proud New Hampshire native was able to realize that dream which has now lead to accomplishing so many others in the world of music and the arts. I've been fortunate enough that my career has taken me from our very own Palace Theatre to Broadway shows "Cabaret," "Jersey Boys," and "A BRONX TALE," the Tony Awards, Fenway Park and the White House, among others.
I feel so incredibly honored to have been selected as a scholarship recipient and am proud of my home state for fueling and encouraging creativity and culture among our youth. It has made all the difference for me and is a large part of why I now have a successful Broadway Career.
Thank you from the bottom of my heart,
Kaleigh Cronin
---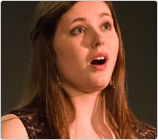 Amada Roswick
Each year, I become more and more appreciative of your generous scholarship. As my loans build up and I become one step closer to graduation, your scholarship helps more than I can say. Granting scholarships to students in music programs makes me feel so important, as I am in a field where I am often told my type of job is being funded less, isn't as important as the STEM subjects, etc. Sophomore year is said to be the toughest for Music Education students, and all I can say is that I am glad I am through with it! I did have a lot of fun in my conducting class and music theory, etc., but I am happy that my class/workload will subside a bit in the next two years.
I made a lot of memories this year in my 5 ensembles, including being a featured soloist in one of the jazz combos, jazz choir, and opera workshop! I am having a blast at UNH and I look forward to my next 2 years here. Thank you so much for helping me to secure my future financially, and to help me get through my rigorous education!
Sincerely,
Amada Roswick
---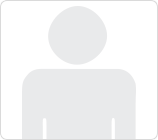 Kyle Cormier
I would like to thank you for your generous donation to UNH for SYMS on my behalf. I had a great time learning more about music. I made the top bands and I had fun playing in the ensembles. Attending SYMS re-aligned my passion to become a music educator. I would like to thank you again for making this opportunity possible, for if you hadn't given me the scholarship I wouldn't have been able to experience SYMS. I apologize for the tardiness of this note.
Thank you,
Kyle Cormier
Carnegie Mellon University, Class of 2010
---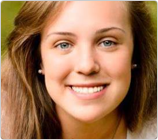 Julia Lasyone
The Frederick Smyth Trust Fund was first introduced to me as a High School Senior. I can still remember worrying over college costs and private loans with my high school's choir teacher when she suggested searching for scholarship opportunities. It was she who convinced me to apply to be an awardee of the trust, and within the next few months I received the confirmation that I had been selected for this honor. The trust has continued to support my educational pursuits over the past four years, and I can now say (quite proudly, I might add,) that I will be a part of Bucknell's graduating class of 2017.
The Frederick Smyth Trust Fund was not only able to provide me with the necessary means in order to make my education at Bucknell possible, but it has also allowed me to continue down the path of strengthening my musical knowledge. I am happy to say that I will be graduating with a degree in CCSM (or Critical and Cultured Studies within music,) with focuses in both the area of Ethnomusicology and Music Therapy. I continue to thank the Trust for helping me to make this statement a reality, and forever grateful for this opportunity.
Thank you,
Julia Lasyone
---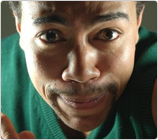 Ty Michael Robinson
On behalf of both me and my family, I would like to thank Smyth Trust greatly for their consistent donations and participation in my education. Over the four years I have spent in Pittsburg, I've come to realize how difficult it would been without the help of this organization. With my brother following behind me, you have once again granted us much needed help and I hope that you are able to do so to any inspiring young musician in this region.
Thanks once again!
Ty Michael Robinson
Carnegie Mellon University, Class of 2010
---